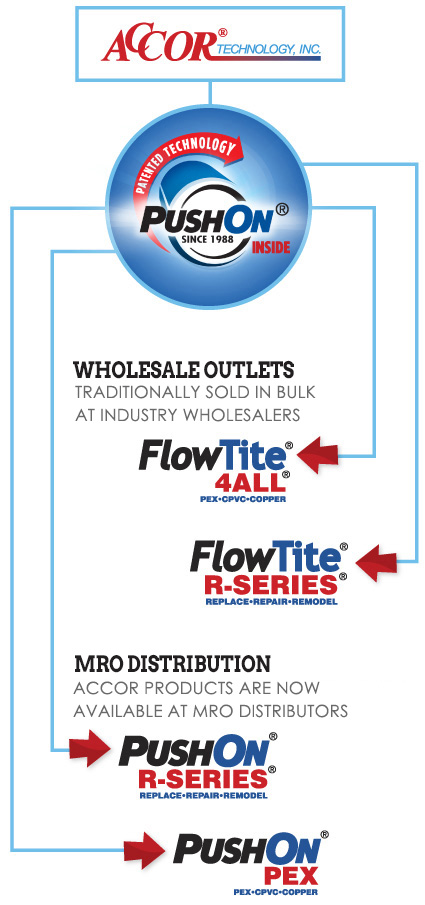 Supply Stop Valves
PUSHON® Technology Inside
Our Mission
Since its inception in 1988, ACCOR's mission has been to design and manufacture American-made, innovative, health-safe plumbing fittings that are the easiest to install, most reliable, and most cost-effective for the plumbing trade.
Industry Innovators
ACCOR pioneered the first "push-fit" supply stop valve creating a whole new plumbing valve application superior to compression and crimp-on style fittings. ACCOR continues to lead the market with innovative features such as the first one valve to fit on all pipes, the first factory attached reinforced, flexible connectors to eliminate joint leaks, the first (and only) positive shut-off with a non-deteriorating design mechanism, and the first (and only) to solve the expensive problem of replacing aging compression valve installations.
Quality
ACCOR's automation process and quality control system enables ACCOR to confidently provide to its customers the best warranty in the plumbing industry. This unique 10 year limited warranty for residential construction includes labor. ACCOR Technology is a company that you can trust and is used and recommended by the Top Builders and Plumbers in North America.
ACCOR Technology Patents Awarded
6,464,266
6,860,523
7,232,159
7,523,966
7,810,850
8,820,799
D571,639
10,385,554
11,066,815
10,557,585
11,221,097
10,920,892
11,313,474
10,865,923
11,306,427
11,143,334




Transparency in Coverage Rule
This link leads to the machine-readable files that are made available in response to the federal Transparency in Coverage Rule and includes negotiated service rates and out-of-network allowed amounts between health plans and healthcare providers. The machine readable files are formatted to allow researchers, regulators, and application developers to more easily access and analyze data. https://premera.sapphiremrfhub.com