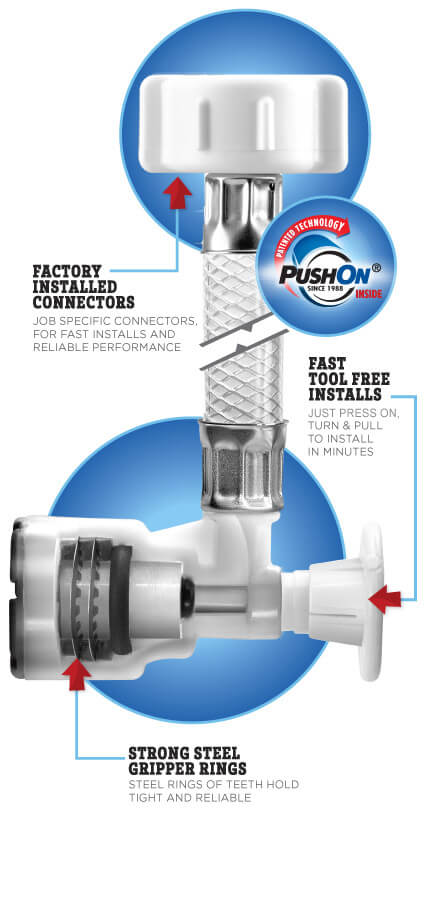 Supply Stop Valves
PUSHON® Technology Inside
ACCOR was founded on its unique, patented PUSHON® Technology. It incorporates stainless steel gripper rings, EPDM rubber seals and the ability to easily press onto copper, CPVC, or PEX piping systems. ACCOR products, utilizing PUSHON® Technology, can be removed and reinstalled simply by twisting the supply valve or fitting off the pipe.

PUSHON® Technology Has Advantages
Eliminates Fire Hazards, since Push-fit design products eliminate the need for soldering and the use of corrosive chemical flux on copper pipe.
Eliminates Frustrating Variables like temperature, moisture and set-up time when using the gluing process required by CPVC joining methods.
Eliminates Permanent Pipe Damage caused by compression valves and fittings. PUSHON® technology fittings eliminate the risk of failures caused by over-tightening.
ACCOR Takes Push-Fit to the Next Level
ACCOR Doubles the Gripping Power ACCOR PUSHON® technology's unique dual gripper rings add a margin of safety and security to the joining that no other push-fit connectors can match.


Innovative Compression Valve Replacement resolves the problems of updating copper and CPVC plumbing from the 1950s and beyond. Only ACCOR R-SERIES® replacement valves install directly over the old brass ferrule, avoiding work-intensive complications for plumbers and homeowners.
Whether you're doing a stop valve repair or installing new push-fit plumbing fittings, ACCOR offers the best solution in the industry.