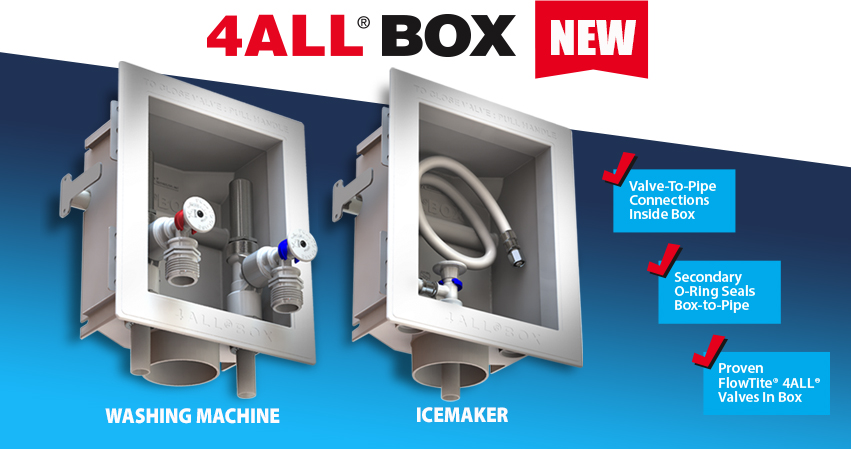 ACCOR Technology Announces New 4ALL BOX
Since revolutionizing the market nearly three decades ago with our patented PUSHON® Technology, ACCOR Technology, Inc. has continued to innovate. In line with our mission to design and manufacture innovative products, we have released our newest solution: 4ALL® BOX.
Designed for washing machines and icemakers, the versatile 4ALL BOX helps prevent costly hidden in-wall leaks by sealing our reliable FlowTite 4ALL valve to a pipe connection within the box, and a secondary O-ring seals the box to the pipe. This design helps minimize liability for builders, while protecting homeowners from costly damage repairs due to water leaks.
"We use our patented PUSHON® technology as the core of new designs, incorporating this technology in different ways into new products," says ACCOR Technology founder and CEO Jerry O'Neill. "Our newest design, 4ALL BOX, continues our commitment to deliver reliable and cost-effective innovations for the plumbing industry."
Click here for more information about 4ALL BOX for Washing Machines Click here for more information about 4ALL BOX for Ice Makers
4ALL BOX features:

Valve-to-Pipe Connection Fully Sealed Inside the Box
Trusted FlowTite 4ALL Valves Preinstalled Inside the Box
Secondary O-Ring Seals Box to Pipe
Three-way mounting options including unique mount between studs using a jobsite pipe (eliminating strapping accessories)
Protective cover to eliminate paint and mud cleanup
Like all ACCOR Products, 4ALL BOX is:

Backed by a 10-year residential warranty.
Manufactured in the USA.
ACCOR's products are based on our experience in the field, where for 25 years we've learned a deep appreciation for the challenges that plumbing contractors face. Our mission is to provide superior performing products backed by the best warranty in the industry. With 4ALLBOX, we're continuing that tradition.