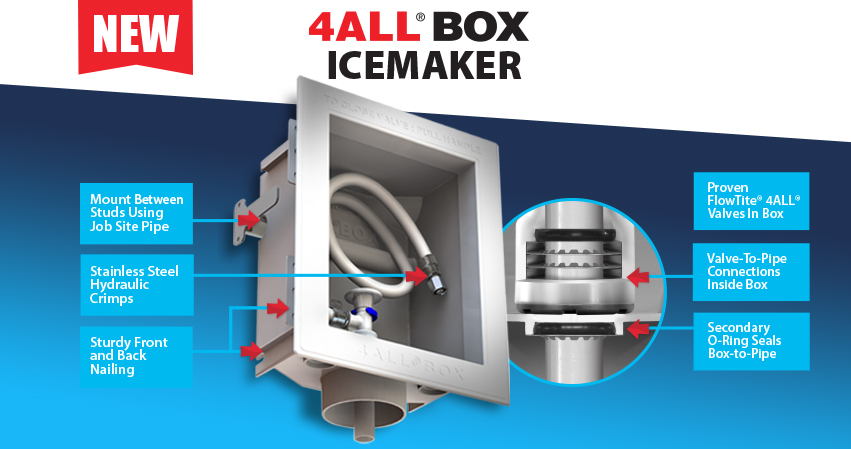 New Icemaker Box Builds on ACCOR's Reputation for Reliability
For nearly two decades, ACCOR® Technology has been a pioneer in delivering innovative products linking piping systems to appliances and fixtures within the home.
Our newest product, 4ALL® BOX, addresses the long-term liability of hidden in-wall water leaks from ice maker valves. Let's face it, nobody likes callbacks — or worse, a leaking issue a few months after installation, adding hundreds or thousands of dollars to the cost of the completed job.


Click here for more information about 4ALL BOX for Ice Makers Click here for more information about 4ALL BOX for Washing Machines
Valve-To-Pipe Connection Fully Contained Inside Box

With 4ALL BOX, the valve-to-pipe connection is fully contained inside a sturdy box, and extra protection is provided by a secondary O-ring that seals the box to pipe. And because we know that the valve is the most important component of the ice maker box, we are excited to pair 4ALL BOX with the FlowTite 4ALL valve, which has been installed in more than 3 million new homes since 1988. a preinstalled ACCOR's FlowTite® 4ALL valve is pre-installed with an 84-inch connector attached at the factory— giving you additional assurance by eliminating potential leaky joints. And we back this promise with a 10-year residential warranty.
The 4ALL BOX fits any type of pipe — PEX, copper and CPVC. Stainless steel hydraulic crimps offer maximum resistance to corrosion. Options include ice maker box with valve only, one-piece valve with connector, stainless-steel arrester or with polymer arrester.
The 4ALL BOX comes with a tapered drain knockout that can be removed without falling into the drain. A tough protective cover is included that keeps the valve clean, and eliminates paint and mud cleanup.


Reliable Quality Made In The USA
Manufactured in the USA, our newest product builds on our promise to deliver innovative products that are cost-effective and are more reliable than foreign imports that have little or no warranty.