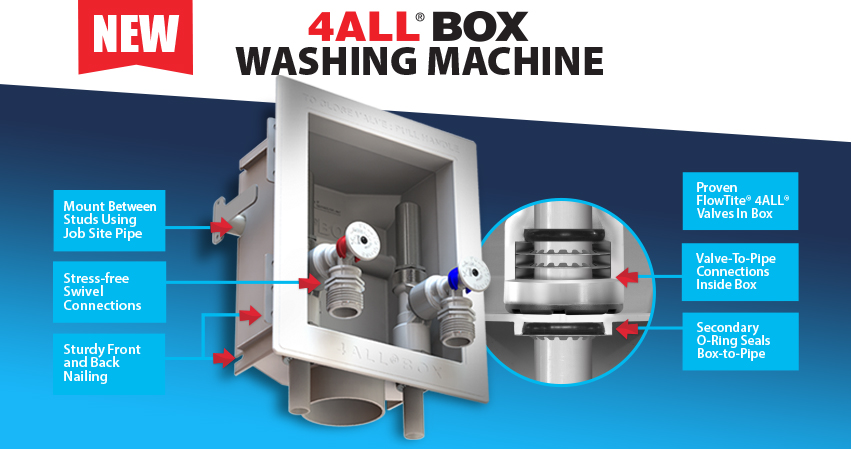 The 4ALL® BOX for Washing Machines seals ACCOR's reliable FlowTite valves to pipe within the box for reduced liability
Hidden in-wall leaks and the resulting expensive cost of damages is every homeowner's nightmare — and any contractor's liability concern. Out of sight, the leak can go on undetected for a long time, incurring not only the costs of plumbing repairs but also the possibility of mitigating mold and replacing the drywall.
Click here for more information about 4ALL BOX for Washing Machines
Click here for more information about 4ALL BOX for Ice Makers
Eliminates Potential of In-Wall Leaks
ACCOR Technology's newest product, 4ALL BOX, eliminates the potential of in-wall leaks for washing machine valve-to-pipe connections. The unique design of the 4ALL BOX contains those connections inside a sturdy, fully sealed box reducing overall long-term liability for plumbers and builders. The 4ALL BOX compliments ACCOR's FlowTite® 4ALL valves, which have been trusted by contractors for nearly three decades and have been installed in more than 3 million new homes.
Our patented PUSHON® technology has been proven to eliminate leaks from valve connections, and we brought the same reliable design to 4ALL BOX. We used a secondary O-ring outside the box to seal the box to the pipe, and we added a protective cover to eliminate cleanup as well as callbacks.


Adapts to Jobsite

Designed to fit copper, CPVC and all PEX pipes, the 4ALL box offers flexible installation based on the job. Install it on the side of the stud using front and back tabs, or in between studs using jobsite pipe. Or mount two side-by-side boxes on a single stud, so the valves and the drainage can be separated into adjacent bays. A condensation funnel or AAV can be added as an option.


Reliable Quality Made In The USA

The 4ALL BOX and Made-in-USA FlowTite 4ALL valves are more reliable than foreign imports. The valves have a dual gripper ring design tested to 1,000psi and are available with or without arresters and are backed by a written 10-year residential warranty. We're excited to unveil yet another quality product line linking piping systems to appliances and fixtures within the home.